Honda VFR 800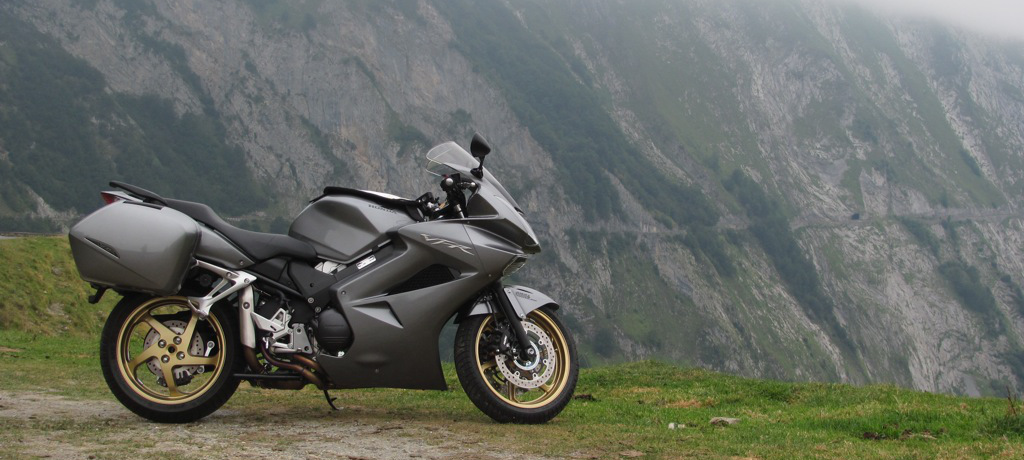 It was my dream. I loved the lines, the sound, the engine, the power, the packing possibilities. She was in my radar since it appeared, but never felt so confident to have it on my own. These were serious words for me. But I finally did the step. It was going to be the definitive riding tool.
I did quite a lot of Spain and some France with it, and also my first Alps with my girlfriend. What a glory to have panniers that integrates so good. I loved to take pics of her. The VTEC was impressive. I could go 150 km/h below 7k revs and feeling that the bike is sleeping. Amazing brake power. Always stable, under good and terrible weather. It has been one of my top bikes with no doubt. I loved this bike.
But I'm a tall person. My driving position in this sport-tourism felt more sport than tourism. In long distances my back was killing me. I needed to make a call: if I really want to travel with a motorbike, I need another driving position. I was the saddest guy in the world giving her in exchange for the new tool, a BMW R1200 GS Adventure.
| | |
| --- | --- |
| Bike from | 2010 |
| Owned | from August 2010 to August 2013 |
| Kilometers | ~35.000 |
| Current status | sold |